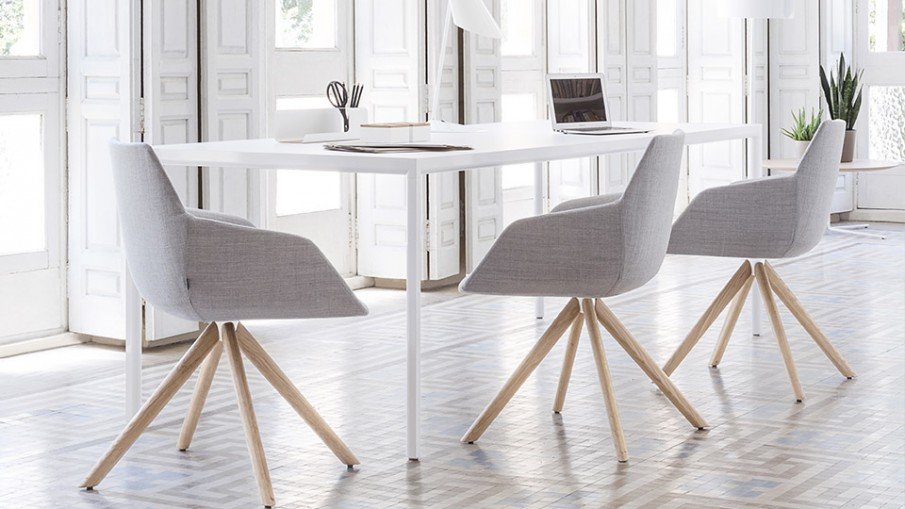 Leading Office Design Trends for 2018
2018 is just around the corner so check out our top tips on how to utilize your workspace for the coming year.
Unconventional Spaces
Out with the old and in with the new. The saying is right on track as we journey into 2018 with the rise of playful and contemporary office environments. Corporate takes a back seat as bright, vibrant colors rule the roost with a distinctly contemporary edge. Replacing traditional layouts and corporate aesthetics, millennial trends encourage employers to socialize whilst boosting satisfaction and overall happiness. Designing a workspace to incorporate fun and looser guidelines can range from big scale projects such as Google's indoor trees and slides to the simpler touches of private seating booths or eccentric art murals. Transporting familiar aspects from the home to public spaces is trending across the design world and successful in attracting all ages with a more appealing location. Innovative seating with a playful design will be a big hit, allowing workers and visitors alike to let go of stress with an increased likelihood of them staying later at work – sounds like a win-win situation to us!
To add some relevant personality, think about what makes your business unique and use this to bring out your unconventional side.
Google Mexico & Dublin – photo source: designboom
Let's Collaborate
It's expected that open-plan, flexible offices will eventually become the norm so think outside of restricted and unused closed spaces to create communal areas and secluded quiet spaces. Employees are increasingly being taken away from their desks and traditional seating to work in comfy lounge pieces outside of the traditional work arena. Expect to see more sofas, lounge chairs and modular seating being used to bring a evoke a cozier feel. Privacy can still be incorporated with panels and pods that allow you to hide away when individual concentration is needed. This flexibility can work for offices of all sizes with sharing spaces stimulating the flow of ideas whilst still providing ergonomic seating solutions. Technology will additionally be more accessible with the presence of wireless charging ports and moveable screens for presentaitons.
Be Biophilic
Scientifically proven to be a winner for boosting both physical and mental health, biophilic design gets ready to be one of the hottest trends for office design in 2018. Based on the concept that our connection to nature boosts well-being and aids creativity, it's a no-brainer that biophilic design offers an ideal method for work environments. You can easily express the trend by letting in plenty of natural light to rooms with glass panels and exposed spaces. Greenery in the workplace has already been an Instagram sensation; see a multitude of posts on living walls, hanging baskets, and plants. Depending on the scale of your project, artificial or natural plants can be just as effective at mimicking the outside world and thus allow for emotions of calm, relaxation and vitality. Natural color schemes and patterns are also an effective tool with materials such as wood, granite, and marble seamlessly incorporated into finishes or tables tops.
Uni-Ka at Hotel SB Glow Barcelona & River Stone