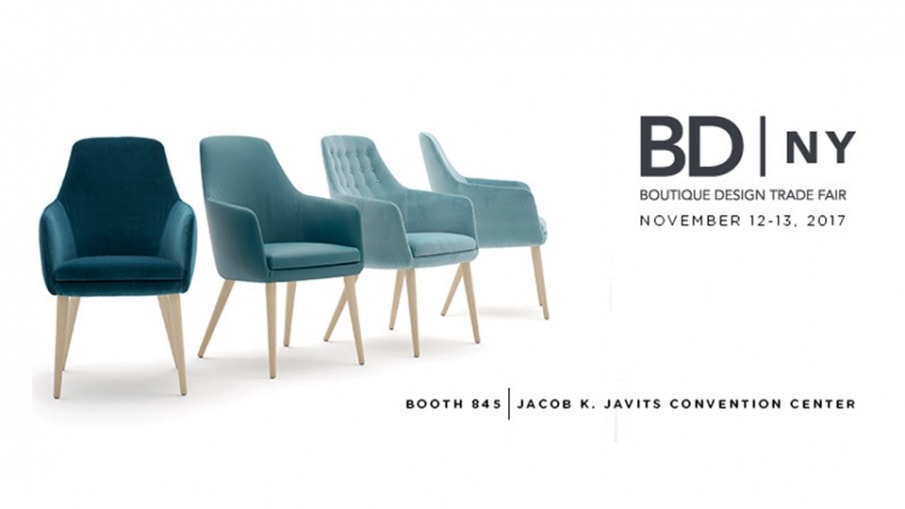 Visit us at BDNY 2017!
As fall approaches, so does one of our favorite trade fairs: BDNY.
Set in the big apple, A.K.A New York City, BDNY brings together the very best of the hospitality design industry for two days of creative inspiration. It's one of the fastest growing trade fairs in the U.S. and we can't wait to be a be a part of it. In true New York style, we will be attending with some of our newest and most fashionable products, including 'hot of the press' pieces from our Montbel, Groove, Tonon and Metalmobil collections. Without further ado, why not check out our sneak peek below to see what you can expect from Booth 845 at the Jacob K. Javits Center, November 12-13, 2017.
Our popular Eleanor and Loto collections are now bigger and better, thanks to new lounge sized pieces. Perfect for relaxing in cozy hospitality spaces, these classic chairs showcase refined style with soft upholstered seats and Beech wood frames.
MAKI
Designed by Enzo Berti and crafted in solid Beech wood, Maki's contemporary styled frame combines clean lines with a softly curved seat. Offering the inclusion of an upholstered seat or laminate options for the seat and inner back, Maki comprises barstools, counter stools and stackable chairs with optional arms.
DALTON & NASSAU
New to our Metalmobil collection, both Dalton and Nassau bring a charismatic and innovative edge to our BDNY booth this year. The Nassau collection's newest addition, Nassau 1.1, pairs the chair's signature polypropylene frame with a soft upholstered front. Dalton offers an exciting range of chairs and barstools with a unique assembly feature – Discover all of the details via the collection's very own blog post HERE.
DANIELLE
A new addition to our Montbel collection, Danielle instantly charmed us with its elegant yet understated design. Embrace vintage style with the option of tufted fabric, complementing the chair's solid wood legs to perfection.
MARSHMALLOW & RIVER SNAKE
Hailing from our Tonon collection, Marshmallow and River Snake have already had quite the year, receiving a number of award nominations and wins between them. Made from Tonon's Soft Touch Plus polyurethane, the seating solutions provide hospitality spaces with innovative and memorable designs.
EDGAR
Inspired by the gentleman's clubs of the early 20th century, Edgar's luxury Italian design and delightfully comfortable wide-cushioned seat resultin a perfect choice for hotels and public lobbies. The full scoop on Antonio Minervini's latest design can be found HERE.
GARBO & LIGHT
Finally, we couldn't head to New York without some of our (slightly older) favorites. Garbo and Light are a shining example of beautiful seating that instantly transports the relaxation of the home into public spaces. Both sporting mesmerizing silhouettes and solid wood structures, Garbo and Light are sure to feel at home at BDNY.