In many cases, finding stylish pieces that are also transportable proves to be a challenging feat. Thanks to Designer Luca Fornasarig, the the search is over. We are excited to introduce our new HDS range. Short for High Density Stacking, this series is a collection of seating solutions with unparalleled stacking capabilities, enabling up to 60 chairs to stack on a single trolley and up to 20 chairs on the ground.
The range comprises of the standard HDS 1.1 with a seat and back in reinforced polypropylene sitting atop a metal frame. The 1.1 provides variety in its finish options with four options for the frame and six for the seat and back.
There are two upholstered versions in the range, the HDS 1.2 and the HDS 4.1. The former is a chair while the latter is a counter stool. Both pieces allow for a variety of finish options. No matter if chosen from our selection of graded-in fabrics or the customer's own material, these two seating options provide enhanced comfort to any setting.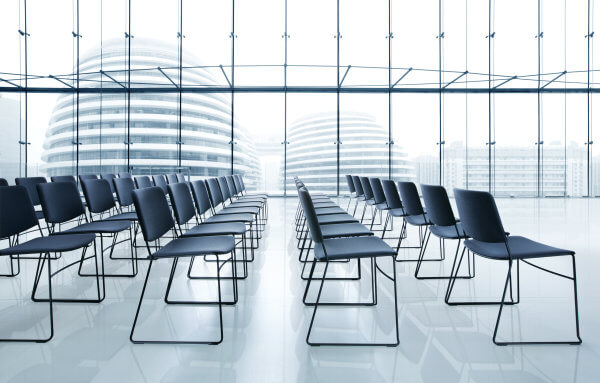 Last, but certainly not least, is the HDS 1.3, a chair with a perforated steel seat and back suitable for outdoor use. Perfect for a restaurant patio or any number of outside events, the 1.3 comes in a three classic colors– black, white, and light grey.
Optional ganging devices are also available. The HDS collection allows for easy transport and storability whilst providing both comfort and elegance for your seating needs.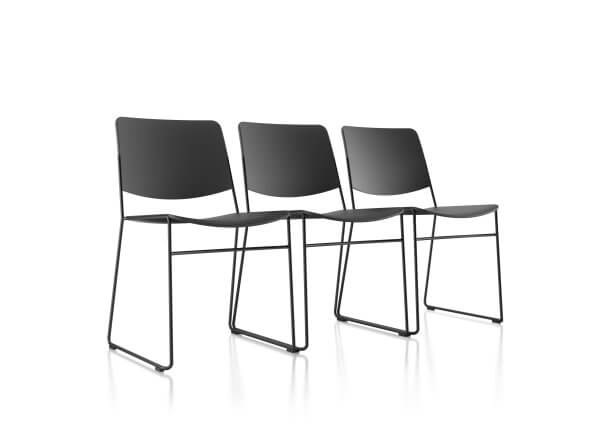 We are thrilled to introduce Lapse to our InClass collection, a modular seating system created by Carlos Tiscar.
The minimalist-styled collection prepares to transform the traditional concept of lounge and waiting areas for commercial and corporate environments. Spanish designer Carlos Tiscar came up with the idea for Lapse after considering how much of our lives we spend waiting in areas such as the hairdressers, doctor's surgery or the airport. Whilst some of these spaces can possess outdated or uninspiring decor, Carlos was enthused to create a solution which would serve modern demands with a stimulating style. "I have used all of my own observations and personal experiences to design Lapse," explains Carlos "with the aim of addressing the issues and small frustrations which individuals face when using waiting area seating."


Lapse accounts for the various demands of modern day public seating, resulting in upholstered seats, backrests, lateral or intermediate arms and tables that can all be combined with ease to produce original configurations. The rounded base of the backrests allows for components to be joined seamlessly, whilst their flat and wide surface provides additional arm support or space for small objects.


Alongside comfort and elegance, Lapse incorporates the latest in technology with optional USB and wireless charging devices or double outlet extensions that can be fitted into any of the units. USB charging devices can also be added to backrests to deliver further versatility. Tables are available in lacquered wood or Oak veneer, with extra dimensions offered to create magazine rack features and supplementary workspace.




Upholstered components can be customized in a variety of graded-in fabrics, leathers or COM, complementing solid Oak or epoxy painted legs. The legs of Lapse are connected discretely to the unit via a sleek steel frame, creating a seemingly lightweight yet sturdy support for the seats. Cushions are also available to transport the coziness of the home to public environments.


See the full Lapse range HERE or trial your very own Lapse design using our brand new 3D Modular Configurator.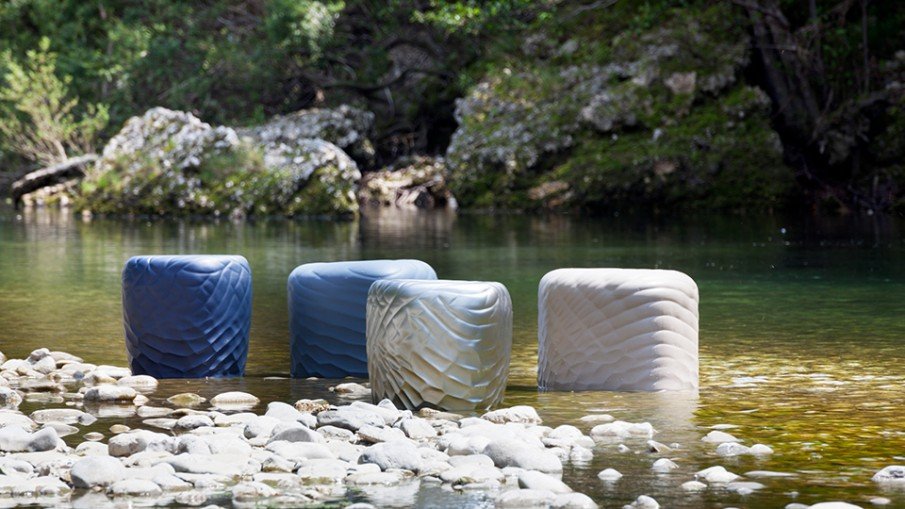 Have you discovered River Stone Yet?
Created by award-winning designer Mac Stopa, River Stone is a stool with a difference. Inspired by the texture of a stone, River Stone's self-supporting structure and polyurethane material allows it to be soft to the touch, lightweight and highly durable. As a result, River Stone's vibrant design can be placed in an almost endless variety of locations and with ease.
As its name would suggest, River Stone is waterproof, making it ideal for indoor and outdoor environments. Enjoy River Stone's eye-catching design in poolside settings or spas, whilst experiencing the utmost comfort and relaxation. Furthermore, River Stone's shape allows it to be used in endless configurations, either placed individually or nesting in rows or groups. The stool is available in 14 standard colors or silver to suit multiple needs and personal tastes.
The good news doesn't stop there! Thank to the River Stone collection's latest addition, the design is now available as a sleek and contemporary table. Made from the collection's signature "Soft Touch Plus" polyurethane, The River Stone Table is additionally lightweight and waterproof.
Inspired by River Stone? Check out these other designs from Mac Stopa and our Tonon collection for more of his innovative European style.

Unnia is a new collection of chairs designed by Simon Pengelly with customisation and durability at its heart. The chair allows for the combination of different colours, finishes and upholstery to create individual and customised looks to perfectly compliment a space.
Available in twelve beautifully finished polypropylene shells as seen below with upholstered seat and back options, the combinations are limitless when creating a look and style to perfectly match your space.
---

---
The collection offers a range of bases including the classic four leg base, sled, trestle and castor bases with and without arms. These multiple option allow for a great diversity of uses in areas such as dining, conference and office.
If custom upholstery, multiple seating colours and frame shapes weren't enough, the Unnia collection also has a selection of nine frame finishes ranging from rich chocolate, vibrant mustard or classic chrome.
---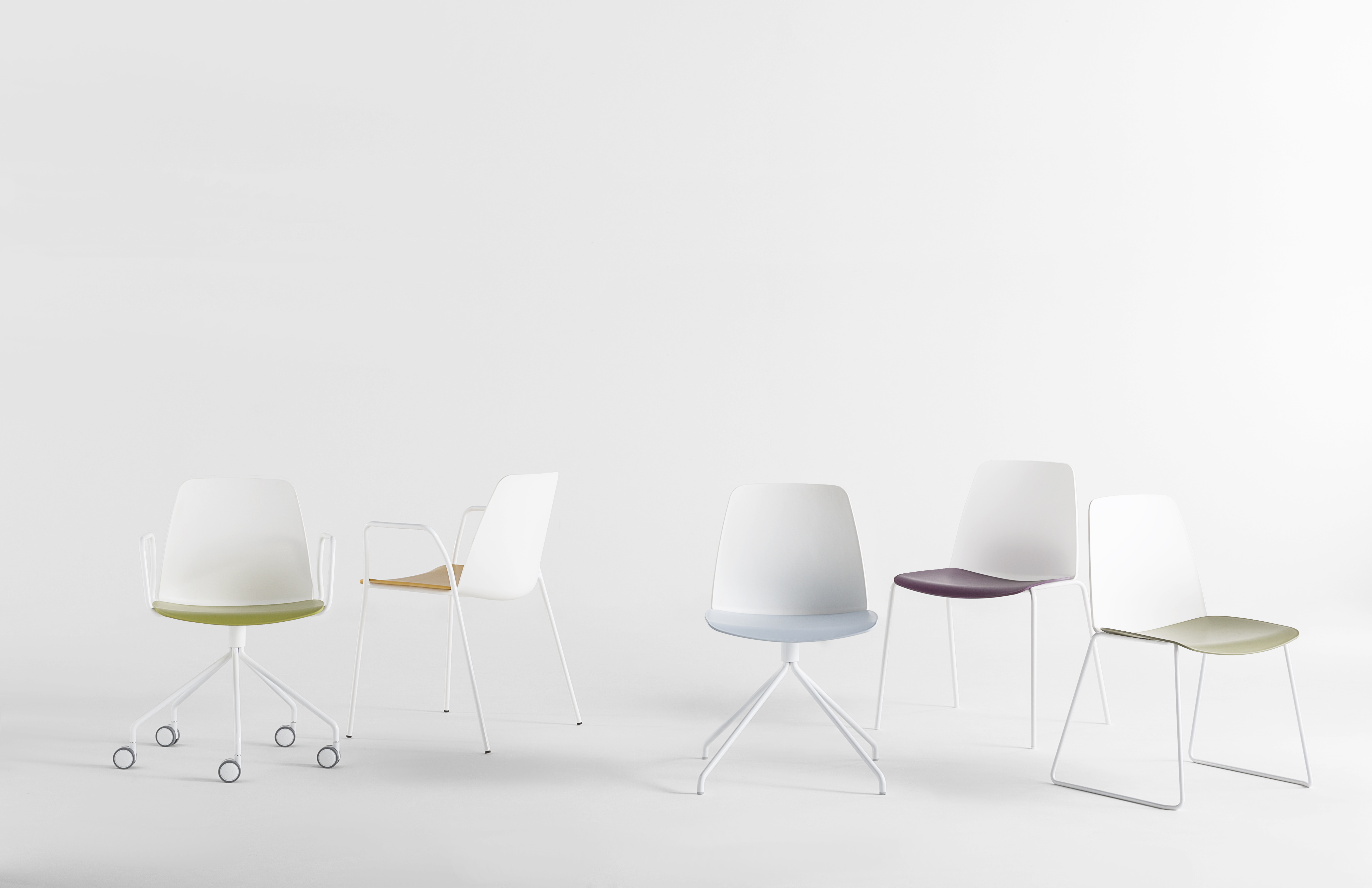 ---
About the designer – Simon Pengelly was born in Henley in the UK in 1967. When he was eight he started making furniture in his father's furniture workshop and won a prize for cabinetmaking at the age of 15. He went on to study at Rycotewood College and Kingston Polytechnic. Pengelly started his professional career as a designer at Conran Design Group. Moving on to Habitat's design team in 1990 and later coordinating the design and development of their furniture range as a freelancer in the late 90's. Pengelly set up his London based studio in 1993 and the studio now works for renowned firms in the UK, Spain, Italy, Holland, Scandinavia and the United States. Pengelly's understanding of how people use and relate to the objects around them and his affinity with materials and manufacturing processes, combined with a passionate desire to create production furniture with 'soul', has resulted in award–winning furniture that contains a wonderful mix of understated design, timeless spirit and clever engineering
---

From the first idea to the finished prototype, every new product has a long journey with all the steps that are necessary to make my idea a success. Step by step, almost everything is from one source: design, construction and engineering. This is all thanks to our qualified staff and the best technical equipment available.
For over ten years I have occupied myself with the twisted shape, a shape that ergonomically adapts the aesthetic flow of the body of the user and to design this twist (rotation) in a way that makes a functional sense, as armrests, as a back support, a laptop surface, headrest etc. The possibilities of interpretations are excessive and the aesthetic result is very often amazing yet simple.
The prototype itself remains with a talented model builder that has a great sensitivity to the product and a passion for its creation. For such a shape to be created requires a lot of work before the
production process begins. Multiple tools have to be constructed and everything has to be
moulded, which requires a considerable amount of knowledge and technical know-how.
Our design studio is equipped with the most up to date engineering machines that help us to
establish the correct direction for the production process. 3D printer, 5-axis CNC milling machine, 3D laser scanner, all this with the appropriate CAD software are required within this process.
The models are crafted, scanned and drawn in 3D, milled and created in a rapid prototyping or 3D printing machine that is then revised by hand, adapted and evolved and then constructed once more until the design is perfected. Such efforts only make sense if there is customer satisfaction and support behind a product and the response that we have had from our products have made it worth it.
Currently we work for more than twenty well known brands in twelve countries. We have received over one hundred design awards which have demonstrated the success of our design studio and team. Our products have been used in a huge range of areas and by many global brands. –
Martin Ballendat